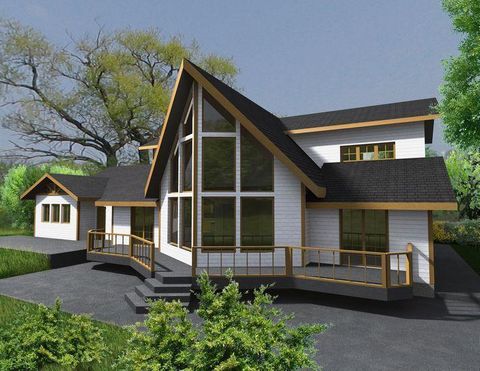 A Frame House Plans
The A Frame home is a stylish design that will set your home apart from the rest. Originally, the A Frame home gained popularity in the 70s and 80s, however, it's striking design is still chosen by many homeowners.
We provide bespoke A Frame home plans, and premade A Frame house plans to help you to build your dream home from the ground up. Contact us today to learn more about our services.
Our Collection Of A-Frame Home Plans
 Select the features you want from the search below to get one step closer to your dream home
A Frame Home Characteristics
What defines an A Frame home? Many think that it is simply an 'A' shaped exterior design, however, there are many other features that are associated with this modern home design. 
For example, these homes sport large, oversized windows to let natural light flood in. They're also typically made with stone and cedar to blend in with nature. This is why they're often found in alpine areas and scenic landscapes. However, their high, sloped roofs also lend themselves well to snowy locations, as the steep sides allow snow to fall off more quickly.
As for the interior details, A Frame houses can vary significantly from home to home. Fortunately, with our custom A Frame homes, you can customise the inside of your house so you get as much or as little space as you want.
How Do You Know If An A Frame Home is Right For You?
The A Frame home design is not for everyone, however, with our custom home plans you can make it your own. These designs are typically chosen for vacation homes rather than family homes, as they're not as spacious as  traditional houses.  
Build Your Dream Home With Buy Home Designss
We have a wealth of experience providing high-quality home plans to families, couples and individuals looking to bring their dream houses to life. We provide A Frame house plans, beach house plans, cabin home plans and more. Make sure to browse our entire collection of house plans to find the right option for you.
FAQs About A Frame Home Plans
How Much Do A Frame Homes Cost to Build?
A frame home costs will vary depending on the size of your home and the materials required to build it. Our A frame home plans start from as low as $725, and adding costs of materials and labour to this can mean you spend several hundred thousand dollars on your completed home.
How Storm Resistant Are A Frame Homes?
The steep-sloping roofs of A frame homes mean that they are resistant to heavy snowfall and winds.
What Are The Benefits of an A Frame House?
There are several benefits of A frame homes you could take advantage of. This includes:
High durability: The A shaped roof means that snow does not build up in cold, harsh weather. This reduces the risk of damage and collapse
Easy to build: A frame homes are one of the easiest types of homes to build, making them more affordable too.
Lots of natural light: Windows can be angled to face the sun so you maximize the natural light in your property.
Is It Easy to Build an A Frame House?
Yes! With our detailed A frame house plans it's easier than ever to build your own A frame house. They usually have a simpler structure, and are smaller than traditional home plans, making them easier and cheaper to build.
Need To Ask A Question?
Our team is always on hand to help you with any questions and queries.
Contact us today for guidance on your purchase.