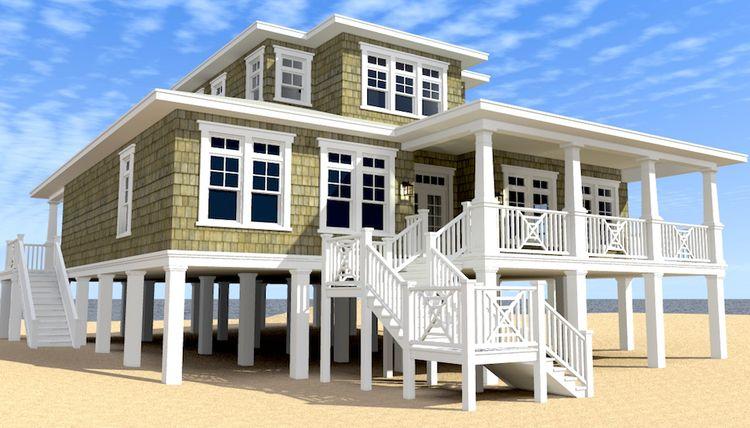 Beach House Plans
We provide premade beach house plans to help you build the perfect vacation home with ease. Regardless of whether you want to build a small bungalow, or a luxurious modern beach house, we've got you covered. With our extensive catalogue of beach and coastal home plans, you'll be sure to find something you love.
We also provide custom beach house plans if you can't find the right solution for you on our website. If you want us to create a bespoke house plan, or you want to customise one of our existing house plans, get in touch today to get started.
 Our Collection Of Beach & Coastal Home Plans
 Select the features you want from the search below to get one step closer to your dream home
What Makes A Beach House?
Beach houses and coastal homes come in a selection of shapes and sizes, and the location will largely influence their interior and exterior design.
Because of their seaside placement, it's important to build a beach house that can withstand the windy conditions. In order to make the most of stunning coastal views, many beach houses also have large windows so that you can take in the local scenery.
Many beach houses also have outdoor decking or balconies to create an indoor-outdoor living space. However, if these features don't suit your needs, we're more than happy to create a custom beach house plan for you. 
Several Beach House Styles to Choose From
Here at Buy Home Designs, we understand that you want to make your vacation home the ultimate haven. That's why we offer a whole host of coastal home plans for you to choose from.
Our waterfront home plans are expertly designed to help you maximise natural light and take in the coastal views. There  are several structural considerations you should make before building a home by the sea, but fortunately, our designers have done the hard work for you.
You can buy small beach house plans, key west house plans, waterfront home plans and more on our website. This will get you one step closer to your dream vacation home in an instant.
FAQs About Beach House Plans
How to Build a Beach House
A detailed beach house plan will give you all the information you need to build a beach house or coastal home from the ground up. Beach house plans come with exterior elevations, floor plans, foundation plans and more so that your builder has everything they need to start your home.
How Much Does it Cost to Build a Beach House?
To build a beach house, you'll need beach house plans, a plot of land, materials and labour. These costs will largely depend on the size of your home, and when added together, your build could cost several hundred thousand dollars for a large, luxury beach home.
How Much Do Beach House Plans Cost?
We stock beach house plans to suit all budgets. Our most affordable beach house plans start from as low as $775. Whereas, our premium beach house plans can cost $8000+.
What are Beach Houses Made Out Of?
Materials such as Composite, PVC, Capstock, and ASA wood are commonly used to build beach homes because they require little maintenance and stand up well to the elements.
Need To Ask A Question?
Our team is always on hand to help you with any questions and queries.
Contact us today for guidance on your purchase.