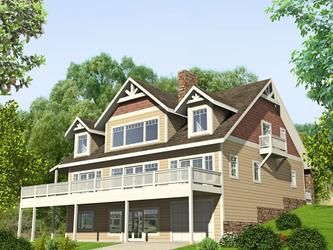 Waterfront House Plans
There's nothing more relaxing than gazing out of the windows of your waterfront property and soaking up the scenery. Due to their peaceful surroundings, waterfront homes are a popular option for regular vacationers, as they provide a calm environment to escape the hustle and bustle of daily life. 
No matter whether you're looking for a permanent home, or a vacation spot for you and your family, our waterfront house plans are the ideal option for you. We provide premade waterfront home plans of all shapes and sizes, so you can easily find a plan that suits your needs. Alternatively, you can easily change any of the designs you see on our site with our modification service.
Our Collection Of Waterfront Home Plans
Select the features you want from the search below to get one step closer to your dream home
Affordable, Small Waterfront House Plans
We provide a selection of small waterfront house plans  for those with a more modest budget to play with. These are the perfect option for couples and smaller families who don't need as much space. 
Just like our large waterfront house plans, these house plans include some of the key features that make waterfront homes so popular, including:
Large windows

Natural building materials, such as wood and stone

A balcony or balconette
Design Your Own Waterfront House Plan
Although we stock a wide range of house plans for waterfront homes, there's a chance you may not find what you need in our collection. Fortunately, we also offer a custom home design service for those who want to build something totally unique. 
This is a great option if you want to add your own personal spin to your home, or if you've got an odd-shaped plot of land to build on. Our team has over a decades worth of experience in the architectural design industry, so you know your plans are in safe hands, no matter which option you choose.