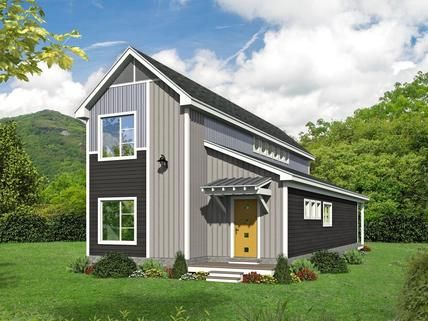 Narrow Lot House Plans
Narrow lot house plans are ideal for anyone wanting to build their own place on a small plot of land. After all, land is expensive and can be hard to find in the right place. That's why our specialist designers and architects have created a range of beautiful and efficient home plans that are perfect for narrow lots. 
So whether you want to build a beach house close to the seafront or only have a small area in a developed city or suburb, we can create beautiful, modern, narrow lot house plans that perfectly fit your size limitations.
Our Collection Of Narrow House Home Plans
Select the features you want from the search below to get one step closer to your dream home
FAQs About A Frame Home Plans
What exactly counts as a 'narrow lot'?
There is no exact definition for a narrow lot house. But most architects think of them as house plans that measure 50 feet in width or less. The designs can range from small and affordable house projects to luxury coastal houses. From bungalows to cottages, to ultra-sleek and sophisticated contemporary multi-family homes.
What makes narrow lot house plans so great?
If land is scarce, then the obvious choice is to build up instead of out. Many of our customers opt for two-story house plans. Corner lot houses, multifamily houses — width alone is no barrier to crafting a home that you will truly love.
Having more than one storey also means you can choose where you want the master suite to be located. Better views are to be had on the higher floor, but then again the lower floor is more accessible. It is entirely up to you.
Planning to build on a sloping lot? Many of our customers opt for 'walkout basements'. They open out onto natural slopes and provide even more living or storage space. These basements also provide handy extra room for more sleeping spaces and bedrooms or even as recreation rooms.
Narrow house lots have a special place for people looking for waterfront homes. By nature, narrow house floor plans have a coastal vibe — and they are often built to include plenty of windows and porches.
Family home plans for small unique homes
 The beauty of starting a narrow lot house plan from scratch is that you can envision it exactly how you want it. We regularly help to make narrow lot homes out of creative and flexible plans that suit the philosophy of the homeowner. 
For example, plans for narrow lots often include front-loading garages that make it easier to park in tight spaces. But in some cases it's better to place the garage at the back of the house —  or to not include one at all. 
As they tend to be closely placed alongside neighbouring houses, narrow lots are often purpose-built for maximum privacy from neighbours. All sorts of narrow lot floor plans are made for privacy reasons, for example by including a side courtyard patio lot. 
Other popular plans include layouts with side porches. Popular family home plans such as the side porch allow for an excellent indoor-outdoor flow throughout the house. 
Modular narrow lot house plans
We dedicate ourselves to staying at the forefront of property design, which is why we develop modular and luxury narrow lot house plans. We have designed modular houses using insulated concrete frames to improve the property's carbon footprint while reducing its construction time. This means you can start using your property faster than with traditional construction while also making it more eco-friendly.
To find your dream narrow lot house plans and start living comfortably whatever the size of your land, search through our pre-designed plans range or contact us to discuss customising your design for a house design that is uniquely yours.
House plans for even narrower lots (less than 50 feet wide)
Our narrow lot home plans feature a variety of architectural styles, including sleek, luxury house designs, traditional properties and Mediterranean style narrow lot houses so you can have the property of your dreams even when you are working with a smaller space.
Making great home plans for a narrow lot is all about maximising the space and opening the property up as much as possible. For this reason, you will find many of our house plans feature large windows to let in as much light as possible and are designed with space-saving in mind.
If you can dream it, we can design it. View our collection of narrow lot house plans and start building your dream home today. 

 
At Buy Home Designss just about any configuration possible. Choose the layout you want and let's get to work building your dream home. Select the features you want from the search below to get one step closer to your dream home.
Need To Ask A Question?
Our team is always on hand to help you with any questions and queries.
Contact us today for guidance on your purchase.