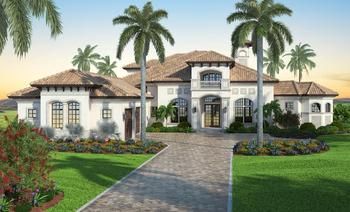 Mediterranean House Plans
If you dream of a house in the gorgeous styling of Mediterranean countries like Portugal, Spain and Italy, Buy Home Designs has a huge range of Mediterranean house floor plans for you to choose from. These houses are designed for warm weather so they make great vacation homes but are also perfect for everyday living. 

We offer luxurious Mediterranean house plans large and small, with one story and two, so whatever space you are working with, you can get the house you want. These stunning contemporary Mediterranean house designs are perfect for narrow lots or to fill expansive spaces so you can relax in the sun in style. 
Our Collection Of Mediterranean House Plans
Select the features you want from the search below to get one step closer to your dream home
Features of Modern Mediterranean House Plans
Mediterrean style house plans are popular across the West Coast and are easily recognisable to most people. Drawing references from Mediterranean architecture, many also come under Spanish style house design, as they share some of the same features.
Contemporary Mediterranean house plans often include:
Stucco exterior in white or brown

A red-tiled pitched roof

Exposed beams

A veranda or lanais for outdoor gatherings

High, arched windows
Search our Luxury Mediterranean House Plans
Mediterranean houses are filled with romance and beauty, perfect for warm weather living and relaxing in the sun. However you envision your ideal Mediterranean house looking, our team of designers has created a broad range of pre-designed home plans in the Mediterranean style for you to search through. If you don't find the home you want in our range of plans, we are also able to consult with you on custom designs to save you compromising on your dream house.