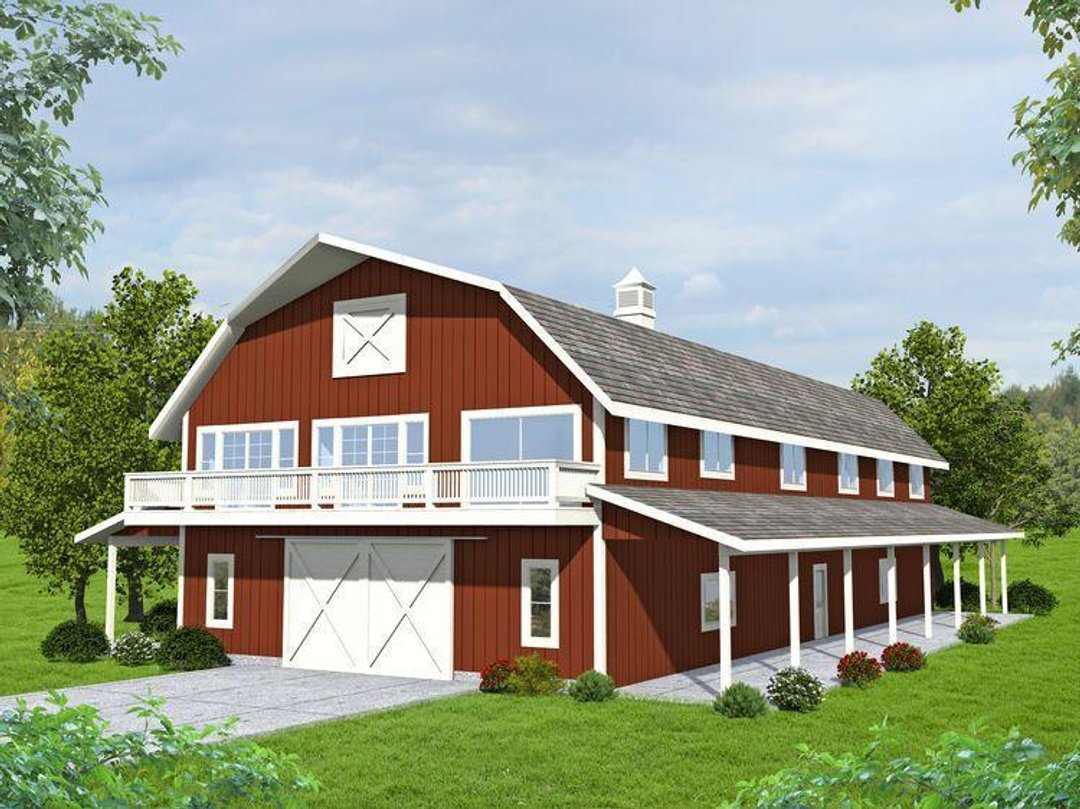 Barn Plans 
Barns or barn houses are instantly recognisable, and their architectural design has recently exploded in popularity. We provide barn house plans to suit a variety of tastes, preferences and needs, and we can customise your barn house to fit your exact specifications. 
Regardless of whether you're looking for outbuildings, horse barn or pole barn plans, we've got you covered. Contact us today to see how we can help you.
Our Collection Of Barn & Outbuilding Plans
 Select the features you want from the search below to get one step closer to your dream home
Barn Characteristics
There are many different types of barn house, and each barn serves a different purpose. In general, barns are freestanding structures made from contrasting wooden beams and posts. 
The stereotypical 'barn' is a wide structure with tall ceilings and a rounded roof, which is why they're so easily recognisable. Horse barns are large, well-ventilated structures with plenty of floor space for horses, tools and hay. Whereas, pole barns are usually anchored into the ground with concrete, and they don't always have walls. 
No matter which type of barn you require, we're more than happy to help. We provide premade barn plans as well as custom barn plans to suit your exact needs.
Pole Barn Plans, Small Barn Plans, Modern Barn House Plans & More
Barn houses and outbuildings are usually large spaces, however, we can create plans for barns as small as 800 square feet. It all depends on how you want to use your space.
Barn houses come in all shapes, sizes and designs, and we can customise your plan to help you achieve your desired look. Whilst traditional barn houses will help you to achieve the rustic look,  modern barn houses will help to set your building apart from the rest and fit in with your home. 
If you're unsure of which options are right for you, we're more than happy to help. Contact us via phone or email, and we'll get back to you as soon as possible.
FAQs About Barn House Plans
How to Build an Outbuilding
Outbuildings and barns are usually spacious and empty multi-purpose structures, therefore, they're usually more straightforward to build compared to residential homes. To build an outbuilding, you'll need a complete barn plan, building materials such as wood and steel, insulation materials, electrical equipment and more.
How Much Do Pole Barns Cost?
Pole barn costs can vary depending on the size of the structure you want to build. Small pole barn plans, plus materials and labour can start from $4,000. Whereas, large, more extravagant pole barns can cost up to $50,000.
How Do You Build a Simple Pole Barn?
Pole barns are one of the easiest types of outbuilding to build. All you'll need is a suitable pole barn plan; planning permission or a building permit; wood; roofing materials and building tools. Once you have this you'll need to:
Prep your land
Install and secure your poles with concrete
Add the roof support beams and trusses
Add the roofing and siding
Add doors and windows (if required)
What is the Life Expectancy of a Pole Barn?
The average life expectancy of a pole barn is 40 – 60 years.
What's a Good Price for Barn Plans?
Barn plan prices will vary depending on the size of the barn and the materials you use. Our most affordable barn house plans start from $595.
Need To Ask A Question?
Our team is always on hand to help you with any questions and queries.
Contact us today for guidance on your purchase.